(Simeon Shai x Imperial Miriyah)
Grey Straight Egyptian Mare
Strain: Abayyah Umm Jurays
Dove has been purchased in partnership with Adele Maraki from Dawn Valley Arabians.
We have admired Dove from the first time we saw her at the Nz National Arabian Championships in 2011, where she was awarded NZ National Champion mare under Judge Terry Holmes ( USA).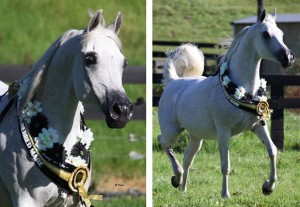 The opportunity arose to purchase Dove we jumped at the chance, She has previously given Rhodium Arabian Stud 4 Fillies in a row.
And we have our fingers crossed she will do the same for us. Special thanks to Fanus & Ria Crous for this opportunity.
Show Results:
2011 Nz National Champion Arabian Mare
Predigree [click here]
SOLD TO AUSTRALIA